Cold Rock Gungahlin has smashed records for the most successful opening week of any store within the franchise group's history.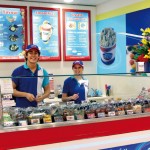 Cold Rock Ice Creamery opened its first store in the ACT on November 27 at the G-Gungahlin shopping centre.
More than 2500 people walked through its doors on the opening day alone, while up to 8000 customers chomped their way through thousands of ice creams over the entire opening week.
"This was the best opening week in Cold Rock history," Cold Rock executive chairman Stan Gordon said.
"Canberrans have really thrown their support behind the Cold Rock concept and welcomed this new store with open arms."
The store, owned by Guy and Karen Randell and Jeanette Pangallo, is also the first speciality ice cream shop in Gungahlin.
"A lot of people love Cold Rock and couldn't wait for it to finally come to Canberra and those who didn't know about Cold Rock are now hooked," Mr Randell said.
"We've given out 4000 loyalty cards already. It's been very exciting to bring Cold Rock to the ACT and we're delighted there has been such a positive response."
Mr Gordon said Gungahlin was using new and improved ice cream now being made under licence by Norgen Vaas.
He also attributed the store's success to its "highly motivated" franchisees who were willing to work hard.
"Radio advertising was  used to drive awareness and hype about the opening day and they built a local Facebook fan following and constantly updated and engaged with the group over the opening days," Mr Gordon said.
"They also understood the importance of embracing existing Cold Rock marketing material and listened to and followed the franchisor's advice and procedures. Gungahlin is a great example of the types of outcomes we aim to achieve across all our stores."