Qantas has been displaced as the Australian Government's sole airline of choice, with Virgin Blue, Jetstar and Regional Express joining Qantas in sharing the Government's domestic air travel contract.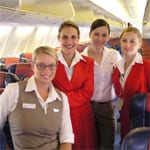 Virgin Blue shares were up eight percent at their peak on the news yesterday, with the carrier expected to snare a portion of the Government's $500 million annual airfares expenditure away from incumbent Qantas when the new purchasing agreement comes into effect on July 1 this year.
The Federal Government has also announced changes to how air travel is handled, with responsibility shifting from individual departments to a centralised purchasing office which will further cut costs and increase bargaining power, Finance Minister Lindsay Tanner has announced.
Mr Tanner expects the air travel contract to save the government more than $160 million to the 2010/11 Budget over the next four years.
"The Commonwealth Government spends more than $500 million a year on travel services," Mr Tanner said.
"We are now using the Australian Government's collective buying power to put in place a new travel deal for the Government and this is another step towards reducing waste and continuously improving government operations."
Internationally the government has appointed thirteen airlines as travel providers with Air New Zealand, Cathay Pacific, Emirates Airlines, Eithad Airways, Jetstar, Pacific Blue, Qantas, Qatar Airways, Singapore Airlines, Thai Airways, United Air Lines, Virgin Atlantic and Virgin Blue International (V Australia) all included in the contract.
Additionally, all government officials will forgo frequent flyer points when travelling on the taxpayer's dollar, with Mr Tanner announcing that practice would  cease when the new purchasing contract came into effect.
"This has been an issue of particular importance to me as the Government has previously been unable to extract the full value from such programs, with loyalty reward points acting as an incentive to travel," Mr Tanner said.
Incoming Virgin Blue chief executive John Borghetti has announced plans to strengthen the airline's brand and sharpen it's attack on particular markets according to The Australian Financial Review.
"You will see us competing in markets more aggressively, Mr Borghetti said.
"We are not getting what I consider to be an adequate share of that [corporate] market and there is no question that at the moment there is space there."