Virgin Blue will abandon the New Zealand domestic market from October 18, after it's New Zealand based Pacific Blue operation accrued years of losses.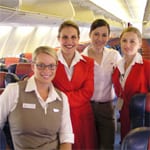 Virgin Blue's decision to pull out of the domestic market in New Zealand will see the Pacific Blue fleet deployed on trans-Tasman and medium haul international routes where the margins are better and the fleet better suited due to capacity which exceeds the needs of the New Zealand domestic market at present.
Virgin Blue's Chief Executive John Borghetti told ABC's The World Today that the airline had sustained significant losses over the last two to three years, which could not continue.
The New Zealand domestic aviation market is now significantly different from when Virgin Blue first began operations, with rival Jetstar entering the market aggressively in recent years, announcing increases in capacity between Auckland and Queenstown last month. Since Jetstar's entrance, combined with Air New Zealand's price changes to defend its market share, prices on New Zealand domestic routes has fallen dramatically, making it no longer viable for Virgin Blue's Pacific Blue to continue operating in the region.
When John Borghetti was pressed over Virgin Blue's decision to abandon the New Zealand domestic market by ABC's business editor Peter Ryan, he argued the airline gave the market a "good shake up", but it was no longer sustainable in the face of increased capacity from competitors.
"As you know, Jetstar moved in, Air New Zealand increased capacity – the simple fact is it is a market of a certain size that can't sustain three carriers, but we leave the market now in a much more competitive state than when we moved in." he said.
Virgin Blue and Pacific Blue customers with flights booked for New Zealand domestic routes after October the 18th will be offered alternatives and refunds.