Apple tomorrow will launch their iPhone OS 4.0 update in an event which will also see the company unveil their own online advertising platform iAds.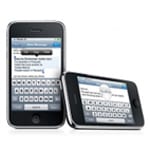 The iPhone update to OS 4.0 is rumoured to bring long wished for features to the iPhone platform, including the ability to multitask 3rd party applications in the background on the phone.
The problems preventing the oft-rumoured feature coming in previous iPhone updates have been two fold. Users were seen as being unable to differentiate a flat battery caused by bad hardware, from that of running too many applications concurrently. Additionally there had been no effective user interface design to 'manage' multiple programs consistent with iPhone's design philosophy.
Rumours indicate that the problem will be solved with a magic bullet that works in a similar way to the expose function in Apple's Mac OS X, with the task manager screen indicating battery drain of applications and allowing easy switching between running apps.
The iPhone OS software has supported multitasking of apps from the get-go, however Apple has always restricted 3rd party apps from running in the background to provide what the software company considered a 'consistent user experience'.
In addition to detailing the next update to their iPhone OS, Apple plans on unveiling their first foray into the online advertising business, as the company continues to wage war with online advertising industry veteran Google.
Apple's online advertising platform, dubbed iAds has come about as a result of the Apple's acquisition of Quattro Wireless, who already had their own online advertising platform under development, in January this year.
The iAds platform has been described as "revolutionary" and "our next big thing" by Apple chief executive Steve Jobs, hinting that the company views significant opportunities to leverage the other brands in its stable to build a competitive online advertising ecosystem, with iPhone and iPad market share providing leverage for Apple to compete against the Google advertising platform monolith.