The Australian Government today announced that it would be providing sixty-three small businesses with funding, in an effort to boost innovative practices.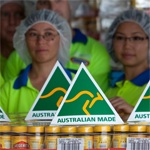 The grants, awarded under the Government's Textile, Clothing and Footwear (TCF) Small Business Program, will range from $17,000 to $50,000 to reach a combined amount of $2.6 million. Over 250 small businesses applied for a share in the funding in the last round alone.
The program hopes to help businesses develop new processes, especially at the niche, high-value end of the market, according to Innovation Minister, Senator Kim Carr.
"Typical of the innovative approaches of grant recipients are projects to improve production processes, explore export markets, and embrace the internet as part of their business strategy"
"The strong response shows that the TCF sector is keen to embrace a culture of innovation and enterprise, and power through the tough market conditions," Senator Carr said.
"These small businesses represent the next generation of TCF industries that employ 45,000 people, including many in regional Australia. A vibrant TCF sector will lead to more high-value, high-skill jobs," Senator Carr added.
Some of the businesses awarded funding include the J'Aton Couture Pty Ltd. in Victoria which received a grant of $43,600 to develop and implement a business strategy for the high-end fashion label, including research to identify alternative export and domestic markets. Also receiving funding is A'West Trading Pty Ltd t/a Besmitten in Tasmania, with a grant of $45,920 to mentor the principals and build the capability of the business by implementing communications and marketing plans.
The TCF Small Business Program is providing $25 million in grants over 10 years to Australia's small designers and manufacturers.