Retailer David Jones has reported a first-half profit up 10.2 percent, posting a net profit of more than $100 million for the period ending January 23.
David Jones increased its net profit for the period by $9.26 million, or 10.2 percent from $91.2 million in the 2008/9 financial year to $100.46 million this year. Sales were 2.3 percent higher at $1.09 billion for the half year.
David Jones chief executive Mark McInnes said in a statement that the company has reaffirmed its net profit growth forecast of between five and ten percent for the next financial year, as well as for the remainder of of the 2009/10 financial year.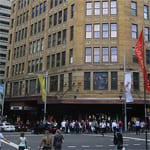 "We note that to achieve the top end of this guidance the retail recovery will have to be in full swing, something Access Economics does not forecast until 2012," Mr McInnes said in the statement.
David Jones increased its gross profit margin to 40 percent, up 0.5 per cent after renegotiating its supplier contracts and reallocating space towards higher margin product categories.
"This represents a 50 basis point improvement and is an excellent result given the heavy promotional activity and discounting by retailers throughout 2Q10,"
"Our company has continued its stringent management of costs, making good progress in implementing the 58 Cost Efficiency Initiatives we announced in September 2009," Mr McInnes said.
David Jones declared a first half dividend of 12 cents per share fully franked, up from the 11 cents paid at this time last year.