Tony Abbott has come under fire from multiple fronts after yesterday declaring that he would scrap the National Broadband Network (NBN) if he was to become Prime Minister.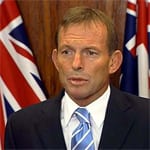 Tony Abbott yesterday announced he intends to take the axe to the $43 billion NBN as the Liberal Party commits to strip $10 billion from Government spending.
"I won't specify yet what might be targeted, but if you want to cut spending, look at the NBN," Mr Abbott told News Ltd.
"Not proceeding with it could save billions of dollars." he said.
John Lindsay from Adelaide based ISP Internode, one of three partner ISP's participating in the Tasmanian trials for the NBN, has taken issue with Tony Abbott's stance, telling The Australian that despite its faults, not proceeding with the NBN would set the country back almost six years of progress.
The third largest ISP in Australia iiNet has also sided with Internode, arguing that the National Broadband Network is vital infrastructure needed to break the stranglehold that Telstra has on telecommunications in Australia.
"Simply cancelling the NBN without any indication of a policy for upgrading Australia's telecommunications infrastructure is a clear indication that Tony Abbott plans to allow Telstra to re-monopolise the fixed-line access network," he said.
The Minister responsible for rolling out the NBN, Federal Communications Minister Stephen Conroy was critical of Abbott's proposed cuts to the program.
"The NBN is crucial economic infrastructure," Senator Conroy Said.
"Without it, Australian companies will not be able compete with the likes of Japan, Korea or Singapore."
Up to 25,000 jobs are under threat if Tony Abbott cuts the NBN funding Senator Conroy believes.
NBN Co's Mike Quigley yesterday defended the need for funding, arguing that over the long term the project will be able to attract private investment in the national broadband network.
"Today you couldn't attract that private investment," he said yesterday. "We are not trying to. That is why the government is putting in equity to get the thing going. As other investors see how the project is going, we expect to attract private investment." Mr Quigley said.