A softer than expected retail sales result for the third quarter suggests that the two-speed economy is still a reality is Australia. The median market forecast was for retail sales to have risen by 1.0 per cent but they only rose by the 0.7 per cent to $60.156 billion (Australian Bureau of Statistics). Distortions caused by Government stimulus and the rebound in demand for commodities created various hot spots, but retail is clearly not one of them.  Consumers remain reluctant to open their wallets, due to the growing cost of credit and more rational behavior.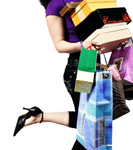 This lack of consumer appetite means that many retailers are still experiencing difficult trading conditions and  nervously waiting for the market to improve.
However, rather than waiting for the "good old times" to come back, it really is time for retailers to adapt to a new reality.  In some market segments trading conditions will remain tough and may deteriorate further.
The strength of the Australian dollar is helpful, but this also causes increased competition from on-line overseas retailers.  The Government should act as soon as possible to close the gap that allows such imports to come into the country duty-free and GST-free.  This, if and when it happens, will reduce the pain, but it won't restore the golden years of prosperity.
So, what should retailers do to be successful in this new brave world?   Putting together a strong merchandising offer is a must and without it everything else is irrelevant.  This means buying what your customers want, at a low price.  Nothing beats a healthy margin and attractive product.  Then comes the cost side; retailers need to stick to the basics and avoid all projects that lack solid commercial return.  If you cannot get your money back within 12 months, this is not the best time to invest.
At the same time retailers need to think twice before they put their short term interests ahead of the needs of their customers and long term strategy.  For example, one of the large supermarket chains in Australia is increasingly replacing branded items with their home brand.  I am sure they are making more money, but there will be a price to pay in the future.  The extra margin on generics is nice, but as the retailer morphs into a monotonous discount outlet, the customers may start walking out.  When people go to a normal supermarket, they expect choice.
The times of easy money are over and uncontrolled spending should have stopped, extravagant projects are still going ahead.  Sometimes it is just due to corporate inertia – putting the cost genie back into the bottle is not that easy, but it has to be done if the historical levels of profitability are to be restored and retailers are to get their businesses back on track.