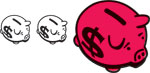 When it comes to choosing the right bank for your business, you are entering into a long-term relationship that will be critical to your growth and development. Whether you are starting up a business or looking at switching banks, there are important matters to consider, questions to ask and products to research before you select your business bank.
Starting your search
The best place to start your search for the right business bank is within your own professional and business networks. Your trusted business peers and colleagues can provide you with a great starting point for your search, especially if you belong to an industry that requires specialist knowledge. Use your contacts to identify any business banks that they have a satisfying relationship with or have helped them in the past.  Banks and bankers that have a presence in your local community will have knowledge of your local businesses and industries.
When you are considering a number of business banks, do your research into those that have constantly delivered and stood the test of time. The cyclical nature of the economy means that banks can exceed customer expectations when times are good, but the true testament of a bank's ability is how consistently it delivers through challenging economic periods.
A strong business bank that withstands the test of time should focus on building long-standing relationships with customers and have a deep understanding of customers' businesses.
Personal and business–never the two shall meet?
If you are starting up a new business, your personal banking and business banking will inevitably interlink. When selecting a business bank, many entrepreneurs head straight for the same bank they hold personal accounts with. While it makes life easier to have both banking needs serviced by the same financial institution, don't be afraid to take your personal banking elsewhere if it means you get a better banking solution for your business.
From a risk perspective, especially if your business is more established, there may be some advantages to having your personal and business banking separate in terms of the securities offered for each. However, in most cases the reality is for many small businesses, that there is a required crossover between the two to help secure business funding and in some cases to negotiate a better pricing outcome.
Having one banker look after all your banking requirements over the long term definitely has its advantages, as they will gain an intimate understanding of your business and personal needs, and be able to take a holistic approach to assist you grow. When you are talking to your prospective business bank, ask about how they can best manage both your personal and business banking needs.
Asking the right questions
As a business owner, it can sometimes be difficult to know what questions to ask your potential business banker. A key issue for business owners is ensuring that the bank and business banker have the expertise to truly understand their business and provide solutions for not only their immediate needs but their ongoing needs too.
Some of the key questions you can tailor to ask prospective bankers include:
How is your bank different from the others in dealing with businesses like mine?
Will I have a dedicated business banker who will understand me and my business?
Can you look after all of my personal and business banking needs?
What other support does your bank offer to meet my ongoing servicing needs efficiently?
What are some of the products that are available to suit my business and make my finances easier to manage?
The attributes of a good business banker
If you are happy with the answers your prospective business banker gives you, and you're building rapport, it is important to be aware of the attributes and qualities that make a good business banker. Like a job interview or a first date, it is essential that you remember that this relationship will be long term—it pays to invest the time to choose someone that you enjoy dealing with and can deliver on your expectations.
A good business banker will execute their promises in a timely and accurate manner.  They have a passion for your business and your welbeing, are responsive and take ownership of concerns you raise. Like any quality relationship, there needs to be trust, communication and a desire from both the banker and customer to have a mutually successful partnership. This means honesty and transparency from both parties. You want your banker to be your business partner who can give you end to end financial, business and personal wealth advice, not just a loan.
The most effective business bankers will develop long-term relationships with their customers and have the ability to ask them the right questions to make them think about the way they operate their business. They will genuinely take the time to understand customer needs and aspirations, and then apply their knowledge and understanding of business, to develop the right solutions for customers.

The essentials
When you engage a potential business bank, don't feel pressured to know what products you need. If you have an existing banking arrangement keep an open mind to new and better solutions. As your business matures and evolves over time, so too will your banking needs. An experienced banker will guide you through what options are available and review your banking solutions to keep them current with your changing needs.
This could mean that a combination of products and services may be required to best fit your business, and this could include overdrafts, term loans, business cards, leasing and cheque account. There are always new products and services designed to make your life easier and a proactive banker will keep you informed about what's available to you.
Other features that may affect your business bank decision might include:
Location and access: Your business banker should be located in your local area for your business needs that can't be undertaken on the phone or online.
Service offering: The ability to deal with one bank and have a dedicated relationship banker to meet both your personal and business financial needs.
Pricing and fees: Price should not be the only criteria in determining which bank is right for you as getting the right capital structure, business insight and superior service are also important considerations.
Product and specialist service: Larger business banks will be able to provide additional services and products including foreign exchange and interest rate risk management products, asset finance and wealth management services to provide insurance, investment and superannuation advice.
Specialised industries: Some banks have business banking teams that are especially trained to service businesses in specialised areas. Keep an eye out if you operate in one of these industries; financial planning, the franchise sector, professional services such as real estate and accounting, health practitioners and agricultural businesses amongst others.
So remember, before you decide on a business bank, do your research. Know what questions to ask, who to ask and what is involved before diving in. Choosing the right bank is essential for business growth and development.
—Geoff Greer is general manager, business banking, for NAB (www.nab.com.au/business).
People who read this, also liked:
Securing a business loan