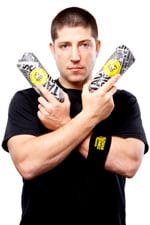 It's one thing moving from New York to Sydney, but quite another going from working in hedge funds to Mexican fast food. Steven Marks has done both and, on the brink of huge national growth by franchising his business Guzman y Gomez, his decisions have paid off.
Steven Marks' enthusiasm for his Mexican restaurant chain Guzman y Gomez is infectious but this success story hasn't been built on attitude alone. Clearly a smart financial brain, having worked on Wall Street for most of his career, he's also a stickler for detail, a hard worker and a self-confessed control freak. They're all attributes that, along with a genuine passion for the product, have served him well.
When the New Yorker arrived in Sydney in 2002, he probably had no idea he would end up with an Aussie wife, two children and a chain of fast food restaurants. His best friend (and now business partner) was marrying an Australian girl and moving from New York, so he decided to follow him. "I hadn't had a holiday for a long time, my best friend was moving there and I thought why not? I didn't really want to work in finance anymore and I wanted to start afresh." The rest, as they say, is history.

Adios New York, Hola Sydney
Marks quickly spotted the gap in the Sydney market for a certain type of food: "I grew up with mostly Latin kids in New York, where Mexican food is huge. Sydney's great for eating out but Mexican food was so badly interpreted here. Also, there are nice restaurants and there's fast food and not much in between. In New York there's a great culture of what's called fast casual; restaurant quality food, served fast. I saw an opportunity to reintroduce Mexican food the way it should be done—fresh, simple, healthy and made to order—and tap into the fast casual market that nobody else was doing."
The 37 year-old started working on the Guzman y Gomez concept in 2005 and, after 18 months of planning, the first restaurant opened in Newtown in 2006. The cheeky characters behind the name and logo are based on the fathers of two Mexican friends Marks grew up with in New York. Tony Ibbotson, who is well known in creative circles, spent around 10 months helping perfect the brand, which is now more commonly known as simply GYG. "If you're going to come to Sydney and reintroduce a cuisine, everything has to be perfect," said Marks. "I want people to walk in to any one of our restaurants and think these guys haven't missed a thing."
More restaurants followed in Bondi, (2007) Kings Cross (2007), Australia Square (2008) and the latest, in the MLC Centre in Sydney's CBD, earlier this year.  GYG now employs close to 100 staff. Revenue last year surpassed $5 million and was up 30 percent on the year before. The business was recently listed with the Franchise Council of Australia and received 20 requests in the first four days alone.
Getting the model just right
Marks could have franchised the business a lot earlier but he wasn't happy to until everything was tried, tested and perfect. GYG's operations manuals are a fine example of his attention to detail, consistency across the brand and high standards. That and the fact that everything is cooked fresh, nothing is frozen; nothing is fried unless customers request hard shell tortillas, and there are no microwaves. Tortillas, salsa and guacamole are made fresh daily and seven different types of chillies, as well as tomatillos, are imported from Mexico. Nothing here is done by halves, and authenticity is key.
And what better way to ensure the food is authentically Mexican than by employing Mexican staff? Many of Marks' managers are Mexicans on 457 employer-sponsored visas and the company is paying to put many of them through school here. Many of them have also brought over their families for a better life in Australia.
Health-conscious, time-poor Sydneysiders have embraced the food. The MLC Centre restaurant regularly serves 600 office workers over a 1.5-hour weekday lunch period. Burritos, made fresh in front of the customer, are often pumped out in four minutes flat. In turn, Marks has embraced Sydney and he loves life in Australia. Married to an Australian, Penne, he is proud dad to young daughters Andie and Tessa.
The customer is always right
Marks loves to hear customers' opinions and suggestions. There are feedback boxes that look like Mexican post boxes in every GYG. Customers can fill out a slip of paper—designed like a postcard addressed personally to him—and post it. And he really does read them. GYG didn't sell hard shell tortillas, which are fried and not authentically Mexican, but the option was added to the menu after customers kept asking for it.
"We should start seeing franchised stories in early 2010 and we're looking at selling some of our existing stores," says Marks. This will see the GYG brand move beyond Sydney and New South Wales and hopefully become truly national.
"We're not just selling out and franchising to make money though," says Marks. "We want to do things differently and grow GYG in the way we know how. We also want to make sure we provide our franchisees with a good return on their investment. They'll be becoming part of our GYG family."