Job ads rose for the seventh consecutive month in November and are now 33.2 percent higher than the same time last year, with competition for skilled labour now becoming a serious issue for Australian businesses.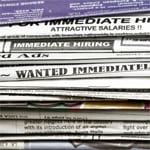 ANZ's Job Advertisements Series for November shows the total number of jobs advertised in major metropolitan newspapers and on the internet rose by 2.9 percent in November, to an average of 184,580 per week (seasonally adjusted). This increase in recruitment activity is putting a strain on small businesses who are still recovering from the GFC and cannot afford to pay the increased salaries employees are demanding.
ANZ Head of Australian Economics Ivan Colhoun said the flight away from newspaper job ads is significant in some states. Newspaper job ads have improved in Tasmania, the ACT and NT in recent months however.
"Newspaper job advertising in Queensland, WA and South Australia appears to have been significantly impacted by a switch to the internet in the past six to nine months – when allowance is made for this, there remains an improving trend for job advertising in these states, most notably in WA, no doubt reflecting the reemergence of the mining boom."
The ANZ expects the Australian Bureau of Statistics Labour Force numbers released on Thursday to show an improvement in the total number employed and a corresponding drop in the official unemployment rate.
"The ABS releases November labour force data on Thursday. The prior improvement in job advertising suggests that the Australian economy continues to
create jobs. ANZ forecasts a 20,000 increase in employment in November and a drop in the unemployment rate to 5.2 percent from 5.4 percent last month. Given the outsized rise in the participation rate in October, the surprise may be that the unemployment rate improves even more significantly in the near term." Colhoun said.