70% of employees are operating on auto-pilot and should be exposed to regular 'positive' stress at work, claims workplace management expert Tony Wilson.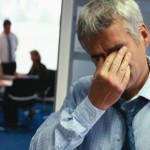 According to Tony, a moderate amount of workplace pressure is a major contributor to productivity and job satisfaction, yet many people do "everything they can" to avoid feeling stressed at work.
"Almost everyone wants to avoid workplace stress but the right amount can have a hugely positive effect on fulfillment and output," he said.
Tony claims medium amounts of 'good stress' — the instant buzz from a sudden rush of hormones — helps people perform tasks more efficiently and improves the ability to make decisions.
"The drive from short term stress makes sure the right chemicals and hormones are stimulated to switch on the brain's pre-frontal cortex. This is the brain's CEO, responsible for decision making, analysing, problem solving and prioritising – all the things that we need to thrive in today's workplace," he said.
On the other side of the coin, Tony warns that while workplace pressure can be positive, get too much of it — when a flood of hormones bombard your body longer than 24 hours— and "bad things happen."
A 2008 report into workplace stress published by private health insurer Medibank Private found stress-related illness costs the Australian economy $14.81 billion a year. The direct cost to employers is $10.11 billion and, on average, more than three days are lost to stress per worker per year.
"Many researchers also believe that chronic stress is the single most important causative factor in the disease process. Long-term stress at work that lasts weeks or months is blamed for high blood pressure, heart disease, exhaustion and depression," he said.
"In other words, companies cannot underestimate the importance of getting the balance right," said Tony, who has prepared the following tips for knowing when enough stress is enough:
"Good stress is giving an employee regular challenges that stretch them slightly out of their comfort zone, while ensuring they feel a sense of accomplishment and are rewarded for their achievements."
"It can be anything from a complex problem to solve autonomously to a stimulating task with a fair but firm deadline," he said.