Traditionally as a business grew and began to add PC's they would add a server to store documents and then to manage email and printing. At some point they would add an application for accounting or stock control and customer management. This generally meant that they would be a server PC that would sit "On-site" under a desk in the office.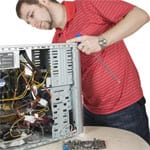 There is now another option, a range of Cloud Applications. With these applications you don't need to buy a dedicated server On-site. All you need is a PC, with a web browser and an internet connection. The application such as a CRM will reside in the "Cloud".
The application is not dedicated to you – you share it with other SMB's, although your data and specific application settings are maintained, backed up and secured. If you need more users you buy more, if you need less then you hand them.
For more information on what is available, read the Cloud Applications for Australian SMB's (link). Here is a summary of the Pros and Cons of Cloud and On-site Applications.
Cloud Application Pros
Faster time to benefit/value.
Better accessibility from remote locations.
Easy deployment.
Frequent updates managed by vendor.
Cost-effective.
Often the only alternative for SMBs.
Cloud Application Cons
You need reliable high-speed internet connectivity.
Over time, the TCO (Total Cost of Ownership) makes it a more expensive option
Shifting to another vendor may not be easy.
Data security can be a concern.
Customisation and integration is not always easy.
On-site Applications Pros
More flexibility.
Easier Integration to other systems.
Greater control of the system
Tighter security
Total cost of ownership of the solution can be lower
Unlimited customisation potential
On-site Application Cons
Higher upfront costs.
Slower time to benefit and return on investment (ROI).
Maintenance costs.
Major upgrades need to be managed.
Which one is right for you? It depends upon your business and your IT capability. If you are strong in then the On-site Application route may well work and cost you less than the Cloud offerings. If you think you are weak in IT then try the Cloud versions first.