We all love to dream of success. Unfortunately, dreaming about success is unlikely to help you actually achieve it. Setting goals and measuring your progress is a simple, formal way to set you on the path to achieving those dreams. It is a first step in formalising your business planning and management.
The mere act of writing your goals down is a form of public commitment. Writing them down in a way that you can measure your progress will guide your decisions and keep you focussed.
Let's use the example of a small business, a gardening service, to explain some simple steps that you can take to set goals and measure your progress to success.
Step 1: Decide on your long term goals
The first step in this process is to decide on your destination. Take a longer term view. Think about where you want to be in five years' time – what will your business look like then? Try to quantify this using something that can be measured. Write these down. For example, we may wish that within 5 years, our gardening service will look like this:
Within 5 years I would like to be employing 25 people and have 500 clients
I would like to be supplying my clients with all of their pesticides, herbicides and fertilisers with my own brand of organic or natural products
I would like to be working less than 40 hours per week
I would like to have reduced my debt to nil
I would like to be known in my region as the number one provider of gardening services
Step 2: Listen to your own advice
If you have been in business for a while, your own advice is probably the best you will ever get. Think about the lessons you have learned in your business over the past years. What advice would you give others who may be starting up a business in your industry? Write these pieces of advice down.  For example:
"Son, if you want to make a success of your gardening service, you should……..
Decide who you want as your clients. Not everyone will suit your style of business.
Target your marketing at those potential clients, with laser-like precision.
Manage your cash flow and be strict on getting paid on time.
Train your team and develop documented systems.
Step 3: Measure success
Decide how you would measure your success in each of the above areas. For example:
Client base
Number of clients at the start of the year plus Number of new clients this year minus Number of customers lost = Total number of clients at the end of the year.
Geographical location of clients plotted on Google Maps
Marketing
Dollars spent on marketing vs Number of leads generated = Cost per lead
Dollars spent on Marketing vs Number of New Customers = Cost per acquisition
Conversion rate of leads to customers from each source of leads.
Cash Flow and Debtors
Debtor listing showing who is past due date, and Average debtor days
Cash flow actual versus forecast
Training and Documentation of Systems
Dollars invested in training
Record of skills per employee
Client feedback
Step 4: Make SMART Goals
Write down your goals next to each of these measures of success. Make sure your goals are Specific, Measurable, Achievable, Realistic and Timebound (SMART). We can look at the client base as an example that can be repeated for each desired area of success.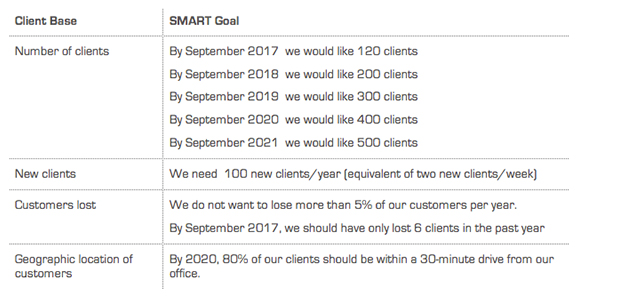 Step 5: Putting it all together
Align your activities with these areas and think about what you can do in the next 100 days to move you closer to achieving your SMART goals. Repeat this process for each SMART goal and associated activities.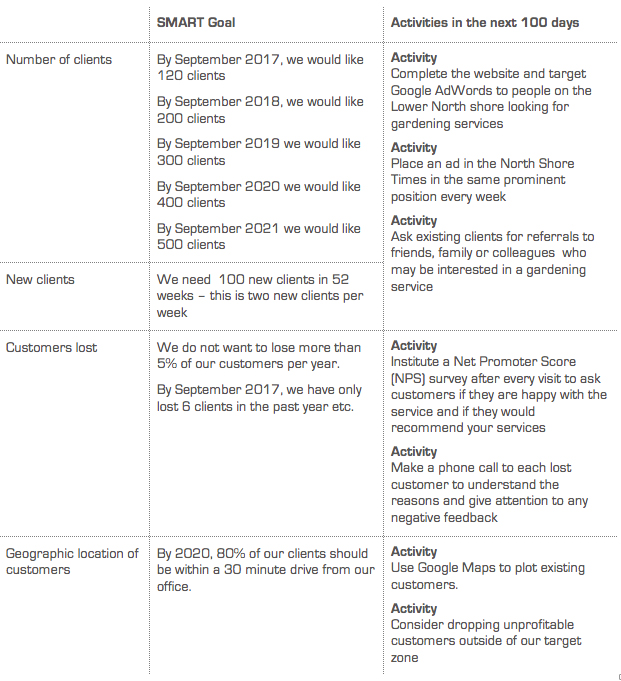 Step 6: Follow up on your goals and activities
Mark off a couple of hours in your calendar each month to review your activities to ensure that you are carrying out the activities that you had intended.  Every 3 months, review your activities and add new activities that will help you achieve your SMART goals. Mark out another date in your calendar at the end of every Quarter, to review your actual achievements against your plans. The time spend preparing your "Management Report" is not wasted. It is time spent thinking about your business.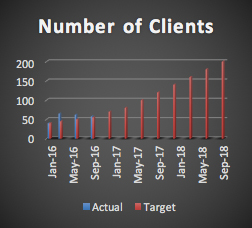 It always helps to look at your actuals compared to your plans in a graphic format. A simple program like Microsoft Excel can do this.
It is a good idea to share your plans with your family, friends or trusted advisers. This public commitment will keep you motivated. Be aware of what is working, and what is not working and don't be afraid to change your plans if something is not delivering the expected results.
This simple planning framework means that your activities are aligned with your goals. By measuring progress towards your goals, you will find that your management decisions become easier. Whatever you do moves you one step closer to your dream.
---
About the author
Ronnie Baskind is the Managing Director of Kilimanjaro Consulting, the leading provider of MYOB EXO Business in Australia and New Zealand, with over 500 enterprise clients. Founded in 2006, Kilimanjaro takes a unique approach in using technology to drive enterprise efficiency, driven by Ronnie's rich expertise and diverse professional history in management consultancy. The firm operates from the perspective of a farmer rather than a hunter, looking beyond short-term goals and focusing on growing and nurturing client relationships to deliver long-term benefits."