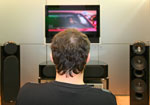 A trend that's really emerged in the first half of this year is the stay-at-home vacation – the 'staycation'. This is where people spend money on products to make their home a hub of comfort in tough times. So how can retailers take advantage of this trend?
While some sectors have suffered as a result of the economic downturn, consumers continue to purchase products like video games that add to the appeal of their 'staycation' . After all, it makes sense for people to kit out their homes with products that make them want to stay in.
Xbox console sales are up 147 per cent on this time last year and gaming industry revenue in Australia rose 47 per cent to $1.96 billion in 2008. This shows that there's a huge interactive entertainment market locally, which is being spurred on by the fact that video games are becoming increasingly social. People play together in the lounge room or over the internet with friends and family far away – it's not longer a solitary sport.
Australian retailers have a massive opportunity to leverage this trend. Entertainment provided by a single video game, for example, can last weeks (and more if we're talking about party games), for the cost of taking the family to the movies, which is just one strong selling point.
Social games like the sing-along party-starter Lips and Guitar Hero compliment this proposition further as they make great options for fun weekends with friends. Essentially it's about showing your customers the cost-efficiencies of at-home entertainment.
Retailers can tap in to the consumer mindset of wanting more-for-less by recommending add-on products to complete their existing home entertainment setup. For example, a gaming console is a great companion for a High Definition TV. Teamed with a PC running Vista, it unlocks the console's set-top box functionality. This means users can watch, pause and record television without having to buy a separate device.
Retailers can also highlight to customers how one product can be used for more than one use. For example, the wireless keyboard that you may want to purchase for your home office can also be used as your remote control in your lounge. Another example is how the same console that you play games on can also be used to store and stream music as well as hold photos while enabling online chat and gaming through a portal such as, Xbox LIVE.
Here are just a few ways retailers can leverage the 'staycation' trend to grow sales:
Maintain your value proposition to customers – This isn't always defined as the cheapest price. For smaller operators this can mean personalised service.
Create a shopping experience that adds value – This can be your differentiator.
Train your team to offer advice on your solutions – Customers appreciate sales staff who can answer questions without having to read off the back of the product box.
Maintain efficiencies with the range of products you stock – Why stock 5,000 products when 80 percent of them of your business comes from 1,000 of them? Look at what's driving revenue.
Run offers and specials as consumers are on the hunt for bargains – Xbox recently ran a 20 per cent limited cash back offer on its Xbox 360 accessories and as a result sales of some accessories doubled in the first week of the offer. The offer struck a chord with consumers and helped retailers drive business.
The economic downturn means the 'staycation' trend is here to stay and retailers have a massive opportunity to leverage this trend. It's all about creating a meaningful shopping experiences that adds value for the consumer.
Sean Davis is the Retail Sales Director, Australia and New Zealand, Microsoft Entertainment Division. www.microsoft.com.au

People who read this, also liked:
The changing retail space: new trends and ideas
Experiential shopping