Seeking a new challenge and a more flexible lifestyle, Gold Coast resident Nikki Rydlicki underwent a drastic change when she introduced Australian-born Cafe2U, the world's biggest mobile coffee franchise, to the Gold Coast three and a half years ago.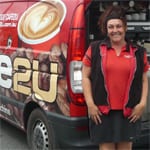 Working in pharmaceuticals for more than 20 years, Nikki thought it was time to take her destiny within her own hands. Sick of working indoors, she decided that she needed a job whereby she could frequently enjoy her love for the outdoors and interact with the local community
"I decided on a lifestyle change which gives me the flexibility and time to do the things I really love.  My husband and I love to go for long strolls on the beach, have picnics in the sunshine and go camping for a few days if we manage to get some time off," said Nikki.
The move has proven to be a successful one, with her new coffee run proving a hit with locals as she covers a Burleigh Heads run mainly servicing businesses in the Reedy Creek and Currumbin areas, including Robina and Carrara.
"I wanted to be my own boss and in addition I wanted a job which would work around my social lifestyle. Now after three years of nurturing my business from its humble beginnings, I am able to work part time while still earning full time wages. This has always been a dream of mine," said Nikki.
"When making the initial business decision, a key factor was the introduction of Cafe2U's 'Acceleration Package,' which helps to fast-track their franchisees three months ahead of schedule. A daily business schedule was constructed with the assistance of my allocated Franchisee Development Manager."
"A lot of time and research has gone into this chapter of my life, so I am prepared to work very hard to make sure I continue succeeding. When you work for yourself, the harder you work the more you are rewarded, and I live by this aspect," she added.
"It's been the best thing I have ever done. I have met so many new people whom I now consider not only business partners, but true friends. All of my customers are notable and are all important to my business, from the largest to the smallest."