Australian Airline Virgin Blue has confirmed the company has signed an agreement with Boeing to supply up to 105 new 737 aircraft from 2011 through 2017.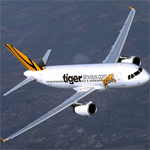 The agreement is the largest in Virgin Blue's history and is also the largest order Boeing has received in 18 months, with the global financial crisis hitting Boeing particularly hard as the demand for air travel dried up over the period.
Virgin Blue was able to negotiate prices for the deal which were lower than what the company paid for its first aircraft purchased in 2001, Boeing has been feeling the pinch and was very aggressive in negotiating the deal which is believed to have taken up to nine months to structure.
The agreement includes 50 firm B737-800NG model aircraft, 25 additional firm delivery positions secured as options and 30 future purchase rights.
Delivery of the first Boeing 737s to Virgin Blue will commence June 2011 with the last delivery scheduled sometime in 2017, with some flexibility on the timing of deliveries within this time frame.
Virgin Blue is expected to use the new aircraft to replace its aging fleet, helping the company improve operating costs and fuel economy on existing routes. Some of the new aircraft will be used to open up new destinations and increase frequency on existing routes. Virgin Blue chief executive Brett Godfrey was buoyant about the agreement.
"Securing this agreement now places Virgin Blue in a strong position to prepare for steady future growth as domestic and short-haul markets recover. It will also ensure a turnover of aircraft to maintain the youngest fleet of modern aircraft, which is crucial for maintaining our commitment to on-time performance and the lowest cost base possible."
Taking advantage of the depressed market conditions and strong negotiating position this placed Virgin Blue in when dealing with Boeing, Mr Godfrey was confident this was reflected in the ultimate purchase price of the aircraft.
"Virgin Blue was fortunate to see the opportunity and be in a position to take advantage, of the downturn in the market as we did back in 2001, to secure long term future supply of aircraft on attractive commercial terms. Pricing cannot be disclosed but importantly net pricing is improved from 2001 levels." Mr Godfrey said.