Ezypay, has just released the Top 10 Consumer Trends Impacting the Fitness Industry in 2010, with some interesting conclusions and predictions for better service in the fitness industry.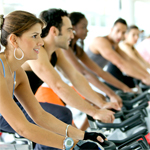 The report, which takes information gathered from the Australian Fitness Industry Survey 2010, consumer trend reports and a deep appreciation for the direction of fitness in Australia & New Zealand, has given over 9,000 recipients in the industry a guide to the attitudes and desires of the post-noughties fitness consumer.
"We found that the results really seem to reflect the general consumer trends of instant information, connection and personalisation," says Celeste Kirby-Brown, Sales & Marketing Director at Ezypay, and co-author of the report.
"Just like consumers in many other industries, people who visit health clubs and fitness centres expect to be connected and engaged," says Simon Hall, Ezypay Marketing Manager and co-author of the report. "The latest connection technologies have not evaded the fitness industry and offer club owners many options to add another dimension to their customer service offerings."
Many of the findings in this illuminating report were taken from the AFIS 2010, conducted by Ezypay, offering a significant representation from the industry with 425 clubs and facilities responding to the survey and 7,650 health club members taking part. Their opinions have helped to shape the Trend Report into a document that fitness industry club owners can use to shape their marketing plan for 2010.
With topics such as the shift to the consumer-focussed model rather than a service-centric model, tapping into the 'golden oldies' age groups, community and charity responsibility and being able to show what's happening in your club right now, 'nowism' as the report calls it, fitness club owners get a clear picture of what they really need to be doing to retain their customers and offer them more value.
Click here to view the findings in the Top 10 Consumer Trends Impacting the Fitness Industry in 2010.