Telstra has rained on Tony Abbott's plan to supply "up to 12Mbps" broadband as a cheaper alternative to Labor's National Broadband Network by announcing the telco has switched on 20Mbps mobile broadband across the country.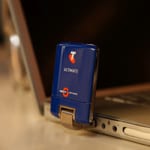 Telstra's Ultimate USB dongle gives users typical download speeds ranging from 1.1Mbps to 20Mbps across Australia's capital city CBDs and associated airports, selected metropolitan hubs and more than 100 regional centres. Achieving better performance than the Coalition's proposed alternative NBN network and delivering that performance today.
Telstra's business customers are the first the enjoy the world best speeds announced today, with two thousand Ultimate USB modems allocated to Telstra business mobile broadband users before the devices go on sale the the general public later this year.
"Australians are telling us they can't afford to be tied to the desk all day and these new speeds mean they can now access mobile broadband at speeds typically reserved for the office," Telstra Business Group Managing Director, Deena Shiff said.
Telstra's roll out of 20Mbps broadband will only cover 50 percent of the Australian population, begging the question of whether the private sector is best positioned to deliver high speed broadband across the entire country or whether Labor's NBN will achieve better outcomes, particularly outside areas with high population density.
"These high-speed zones cover approximately 50 per cent of the Australian population and match the areas of highest customer demand and will make the frustration of waiting around for files to download a thing of the past." Ms Shiff said.
Ms Shiff said the new speeds had the potential to increase how and where our small and large business customers work – boosting productivity in the process.
"Our customers have told us that they want higher speed mobile broadband so they can work more flexibly outside of the office and we are delighted to be the first in the world to offer these new blistering speeds on a national network."