Search engines are one of the primary ways people locate information.That means search marketing isn't just a huge online marketing activity. It's a huge and vitally important marketing activity period.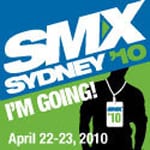 If you know nothing about search — and are in a job that's even remotely connected to driving sales, visitors, customers etc… You need some understanding of the search space, plus we also delve into Social Media.
No Drama Media is responsible for the largest Search Engine Marketing event of the year in Australia – Search Marketing Expo – SMX Sydney.
As part of our annual effort to help encourage and educate new recruits in search and social media we are now offering Dynamic Business readers the ability of attending a once a year FREE event inside the Exhibition Hall at SMX Sydney.
We are running our popular Search Engine Boot-Camp series at SMX Sydney this year for the first time FREE OF CHARGE, Search Engine Boot-Camp is where you'll learn all the fundamentals about search and social media marketing, and you will hear from leading Australian industry experts as well as a selection of International Speakers as well.
And one thing we will GUARANTEE, even though this is a FREE event – NO SALES PITCHES, Search Engine Boot-Camp is ALL about education.
When? April 22nd and 23rd
Where?  Sydney Hilton
How Much? Is FREE
As if a FREE Conference was not enough, to get you started in Paid Search we are also offering you a BONUS $75 Google Ad Words Credit + a BONUS $50 Click Credit with Australia's own Search Network – Adlux.
That's $125 worth of Freebies just for pre-registering before you even get to the event.
PLUS – You also have the opportunity to go into the draw to win an Apple iPad**
To register for the free Search and Social Media Marketing Seminar as part of SMX Sydney, or to register for the full SMX Sydney experience, CLICK HERE.
Links for more information:
Free Search and Social Media Bootcamp Agenda
*Limited Seating, based on a first come first served basis
** Terms and conditions apply