An adventure travel business that plans to fly tourists into Tasmania's stunning wilderness areas has won RMIT University's prestigious 2010 Business Plan Competition.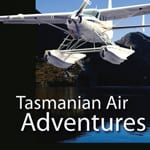 Tasmanian Air Adventures, which will offer seaplane based eco-tours direct from the Hobart waterfront to the state's top wilderness lakes, rivers and beaches, was awarded the $25,000 RMIT University First Prize at an awards ceremony Wednesday night.
Team leader Christiaan Durrant, who is studying a Master of Aviation Industry Management at RMIT, said he was thrilled to have his business idea endorsed by industry leaders who had judged the competition, which awarded $92,000 in prizes in 2010.
"Winning the RMIT Business Plan Competition gives our start-up company great kudos and recognition within the business community," Mr Durrant said.
"That is a fantastic advantage for us as a fledgling aviation and tourism company seeking to enter the Tasmanian market.
"The financial support, the feedback and advice from business professionals, and the recognition and validation from the business community are invaluable for a tourism start-up like Tasmanian Air Adventures.
"Tasmanian Air Adventures intends to focus on the mid to upper segment of the Tasmanian tourism sector. For us it will be about providing a unique travel experience – something that links closely to one of Tourism Tasmania's major strategies.
The eco-tour business ­will offer seaplane flights with destination adventures such as hiking, kayaking and canyoning in some of Tasmania's top tourism attractions, including Mt Wellington, Port Arthur, Wineglass Bay and Cradle Mountain. The venture is expected to start operating in January, 2011.
Now in its 10th year, the annual RMIT Business Plan Competition is open to all RMIT students worldwide and encourages budding entrepreneurs to develop competitive business plans for original business ideas.