Emerging Australian entrepreneurs are invited to enter Enterprize 2010, one of the nation's richest business competitions offering the winner $100,000 in seed capital.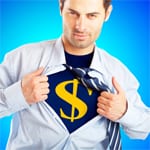 Enterprize is a national business planning competition organised by University of Queensland (UQ) Business School to showcase innovative products and business models amongst potential investors.
Now in its tenth year Enterprize is responsible for launching dozens of successful businesses including CoolMe, Bilexys and Codesion*.
Academic Dean and Head of UQ Business School, Professor Iain Watson, said the University is proud to support the promotion of Australia's most exciting and innovative ideas.
"Enterprize captures the ingenuity and innovation of Australian entrepreneurs and rewards the best with $100,000 towards its commercialisation.
"A panel of dedicated judges from the innovation sector will support entrants throughout the submission process culminating in a formal presentation process where entrants will have their business plan reviewed by potential investors," said Professor Watson.
Last year's Enterprize winner GRW Industries developed the CoolMe Vest, a revolutionary personal cooling vest that significantly reduces heat stress and recovery times for workers in extreme heat conditions.
Team member George Adamson said winning Enterprize had helped to significantly raise the profile of the business.
"As a start up company, Enterprize provided us with a forum to clearly define and articulate our goals. It also provided us with the opportunity to realise the potential our company had to a wider audience.
"Winning one of the most lucrative business competitions in Australia has allowed us to take the next steps in reaching our market and the awareness has helped to identify investment opportunities and commercial business partners," he said.
Professor Watson said that UQ Business School is looking forward to receiving applications from throughout Australia in 2010.
Aspiring entrepreneurs are required to submit a concept plan online by Friday 16 July with finalists announced on Monday 2 August.
This year's Enterprize competition will be judged by a panel of experts including UQ Vice-Chancellor Professor Paul Greenfield AO, Venture Capital Fund Director Bob Christiansen, NBC Capital Managing Partner Bruce Scott, Manager of Venture Capital Attraction with the Queensland Government Stuart Gow and OneVentures Executive Director, Anne-Marie Birkill.
For more information, entry requirements or to enter Enterprize please visit www.enterprize.uq.edu.au.