Clarence St Cyclery has been named Business of the Year and Grasshopper has taken out honours for Best Small Business of the Year in the City of Sydney's 2010 Business Awards.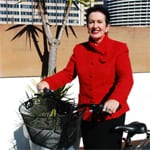 Clarence St Cyclery also picked up the Bicycle Business Award and Grasshopper Bar in Temperance Lane, Sydney also won the inaugural Small Bar Award.
Lord Mayor Clover Moore MP said every business in this year's awards should feel proud of themselves, as they play a pivotal role in making Sydney the economic powerhouse that our great city is today.
"I'd like to congratulate all 21 winners of the 2010 City of Sydney Business Awards and make a special mention of Grasshopper and Clarence St Cyclery. These two new businesses are doing exceptionally well considering our tough economic climate over the past 12 months. They have taken advantage of their strengths and now offer Sydneysiders vibrant and diverse places in Sydney," said Ms Moore.
"These awards are one way in which the City recognises and celebrates the contribution small businesses make to City life and it's exciting to see the strong growth and the sheer range of the sectors reflected in the awards," said Ms Moore.
The Judges recognised popular small bar Grasshopper which opened less than a year ago with help from the City's matched cash grants program, as an exciting addition to Sydney's booming small bar culture.  Grasshopper is run by Martin O'Sullivan who also heads up Sydney's Small Bar Association.
Judges praised the great range of products, helpful advice, initiatives like a dedicated women's bike store and commitment to sustainable transport at Clarence St Cyclery.  The Cyclery is a family run business which has been operating since 1975.
The Lord Mayor's Sustainability Award went to Sydney's Sustainable Markets Inc. for their exceptional sustainable business practices and promotion of sustainable food to Sydneysiders.
"82 per cent of businesses within the City of Sydney are small and medium businesses – there are more than 16,000 of them employing almost 88,000 workers and almost $17 billion to the City's economy each year.  These Business Awards allow us to show our appreciation and commitment to supporting them," said Ms Moore.
"By 2030, we want Sydney to have a web of vibrant communities and economies across the Local Government Area. These villages will provide local shopping, fresh food, entertainment and specialty shops and services within walking distance of most residents."
More than 520 businesses were nominated in this year's Awards, with more than 41,500 votes received in just three months.