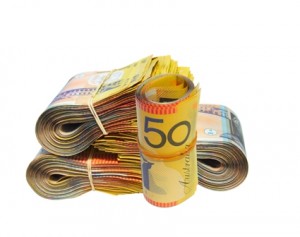 A second stimulus package, worth $42 billion, announced yesterday by the Federal Government will push the budget into deficit but will assist in the fight against recession says Prime Minister Kevin Rudd.
"I don't like being in deficit at all. This is not a question of choice. This is what we are required to do," he said. "Minus this stimulus package, it will be quite clear that the economy would run a grave risk of generating negative growth, most particularly in the 09-10 financial year," he said.
Considered a 'mini-budget', the funds will go towards "nation-building and jobs"—schools, housing, energy efficiency in homes, community infrastructure and roads, and small business support—in the hope it will save 90,000 jobs over the next two years.
"I cannot remove the impact of the global recession on Australian jobs but by government action we can reduce it," Rudd stated in his national address last night.
A key feature of the package includes five $950 one-off payments for low- and middle-income earners, farmers and families, designed to be spent immediately. The handouts, totalling $12.7 billion are scheduled for payout in March and April. Those eligible for the payout must have lodged a 2007-2008 tax return. Those who haven't yet lodged a return can do so until the end of the June this year to be eligible.
The five key bonuses include:
Tax Bonus for Working Australians of up to $950 paid to every eligible Australian worker earning $100,000 or less.
$950 Single Income Family Bonus to support 1.5 million families with one main income earner.
$950 Farmers' Hardship Bonus paid to around 21,500 drought affected farmers and farm dependent small business owners receiving exceptional circumstances related income support.
$950 per child Back to School Bonus to support 2.8 million children from low-and-middle income families.
$950 Training and Learning Bonus paid to students and people outside of the workforce returning to study to help with the costs of education and training.
Small businesses will also benefit from the stimulus package, receiving a 30 cent-in-the-dollar investment tax break for eligible assets costing $1,000 or more that they acquire from 13 December 2008, to 30 June 2009, in a measure totalling $2.7 billion.
In addition to this, a small business that buys and installs a $2,000 computer before the end of June 2009 can claim an additional $600 deduction in its 2008-09 tax return.
Opposition Leader Malcolm Turnbull criticised the spending as "Whitlamesque" and hinted that the Coalition may stop the legislation in Parliament. "We are heading for a higher level of debt than the $96 billion the Coalition inherited from Paul Keating in 1996," he said.
AccountantsRus CEO, Adrian Raftery has suggested that the $950 tax bonus payment could cost the government up to $2,375 per tax payer. He warns that the strategy is not for everyone, particularly those struggling with financial hardship or those who have lost their job.
Rudd has warned that any state that used the package to cut back on their budgets would be penalised and shamed. The premiers will meet with the Prime Minister tomorrow to discuss the package.
People who read this, also liked:
Turnbull opposes stimulus package: Small business may suffer