Delays are expected at Sydney Airport today as Transport Workers Union members at Airport Fuel Services strike over a proposed pay deal with the company.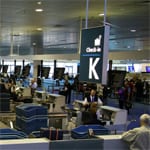 Sydney Airport spokesman Michael Samaras told the AAP there would be no delays because of the industrial action, but reports from people complaining of delays to flights using the social network Twitter indicate that the strike by the Transport Workers Union members is impacting flights leaving Sydney Airport.  Flights are expected to be delayed at both the International and Domestic terminals at Sydney Airport.
Federal Workplace Relations Minister Simon Crean called on all parties concerned to come to terms without intervention from Fair Work Australia through his spokesman to The Australian.
"We call on all parties to try and resolve this through negotiations in the framework provided by the Fair Work Act," a spokesman for Mr Crean told the paper.
The dispute with Australian Fuel Services is over a 5 percent pay rise offered to the 24 full-time employees working at Sydney Airport, but not extended to the 19 casual workers employed by AFS. The Transport Workers Union countered this by offering to accept a lower 3.5 percent pay rise but apply it to all 43 workers both casual and permanent. The TWU fears that if permanent employees are paid more than casuals, there will be an incentive for AFS to move permanent employees to casual contracts, undermining the 5 percent pay increase offered, as well as decreasing job security for its members.
In a ruling last month before the Full Bench of Fair Work Australia, the TWU was granted a protected ballot right to vote on whether to commence strike action against AFS, concluding;
"I am satisfied that the TWU has been, and is, genuinely trying to reach an agreement with the employer of the employees who are to be balloted. The jurisdictional prerequisites set out at s.443 are met. An order for a protected action ballot has accordingly been issued."
Travellers are encouraged to check with their airline before arriving at the airport to confirm departure times, as well as visit the Sydney Airport website.