Low cost carrier Jetstar is taking the fight to rivals Virgin Blue and Air New Zealand by increasing the number flights between Queenstown and both Melbourne and the Gold Coast.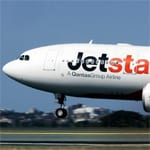 Jetstar's rivals Virgin Blue and Air New Zealand have recently established a code sharing agreement trans-Tasman flights, threatening Qantas and particularly the low cost regional airline Jetstar in the trans-Tasman market.
Jetstar from December will establish twice-weekly flights from both Coolangatta (Gold Coast) and Melbourne to Queenstown, but will also increase the number of Auckland to Queenstown flights from 7 to 10 weekly. Jetstar appears to be targeting the summer travel market initially and it remains to be seen whether the increase in flights to Queenstown will continue year round.
Jetstar's new Queenstown flights will add 72,000 seats to the destination yearly, increasing by 40 percent the number of potential tourists flying into the Southern New Zealand adventure capital.
Jetstar Chief Executive Officer Bruce Buchanan said the airline plans to add another Airbus A320 to Jetstar's New Zealand fleet (bringing it to 7 aircraft) in order to accommodate the planned Queenstown expansion.
Last month, Jetstar rival Tiger Airways objected to the Air New Zealand/Virgin Blue trans-Tasman tie up, submitting an official complaint to the ACCC over the deal. Tiger Airways' new Australian boss, Crawford Rix said that both Virgin Blue and Air New Zealand needed to work separately rather than join forces to battle the new economic reality facing the airline industry.