Telstra will be launching the HTC Wildfire Android smartphone in August to flesh out the telco's range of Android devices after the success of the HTC Desire on the Next G network.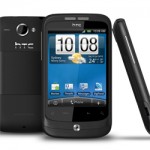 Telstra has again sewn up an exclusivity deal with HTC to distribute the HTC Wildfire after doing well with a similar agreement covering the HTC Desire which is still in effect (HTC Desire is a 6 month Telstra exclusive from launch) the HTC Wildfire will become available in August
The HTC Wildfire is loosely based on the HTC HD Mini windows mobile hardware but runs Google's Android, which is fast becoming a business class mobile operating system, particularly if you rely on Google Mail and Calender to run your business activity (many micro and solo entrepreneurs are taking this route). Specs wise the HTC Wildfire comes equipped with a 3.2-inch capacitive touch screen a 5-megapixel camera a 3.5mm audio jack and micro SD card slot for expanded storage.
HTC Wildfire, while borrowing heavily from the HTC HD Mini's internal hardware takes its styling cues from the HTC Desire, but shrinks the Desire into a more compact size, offering businesses a more affordable option for those looking to flesh out their business smartphone usage without opting for the more expensive HTC Desire.
"HTC Wildfire closely follows the success of the acclaimed HTC Desire launched with Telstra in April this year," said Anthony Petts, Sales and Marketing Director ANZ, HTC Corporation.
"Combining striking looks, some of HTC Desire's best features and an ultra-affordable price tag, the new HTC Wildfire is set to excite," said Ross Fielding, Executive Director, Mobility Products, Telstra.
The HTC Wildfire will launch in Australia in August exclusively through Telstra. Pricing will be announced closer to launch, but it is likely to be positioned lower than the HTC Desire which is currently available on Telstra's $49 Cap plans and up.