Telstra will release a 'Royal Purple' version of Research in Motion's BlackBerry Pearl 3G to Australia exclusively later this month, with BlackBerry seeking to liven up it's staid corporate image.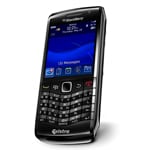 Telstra is the exclusive Australian launch partner for the new BlackBerry Pearl 3G, with an exclusive distribution deal for three months on the device. The Blackberry Pearl is the smallest BlackBerry smartphone yet, measuring less than two inches wide and weighing only 93 grams.
Telstra Executive Director Mobility Products, Ross Fielding, said the new BlackBerry Pearl 3G smartphone combines the best of the BlackBerry smartphone experience with social networking features and an elegant, highly-compact design.
"Telstra is pleased to be the launch partner for this slim and powerful smartphone which will be available exclusively for three months on Telstra's Next G network. Its eye-catching design and smart 20-key QWERTY keyboard with SureType software will win fans amongst people who like to keep in touch via email, text message, through Facebook or via Twitter throughout the day," Mr. Fielding said.
"The BlackBerry Pearl 3G smartphone features the famous push-based BlackBerry Email experience. It's light and compact and makes one-handed typing simple. We expect it to be a new 'must have' fashion accessory as well as an attractive way for consumers to upgrade from a traditional phone to a smartphone.
"The experience will also include BlackBerry Messenger, an exclusive instant messaging service which allows customers to create groups and share pictures, send voice notes and share calendars with other friends using BlackBerry Messenger."
The BlackBerry Pearl 3G smartphone will be available from Telstra in both Royal Purple and Piano Black.
BlackBerry, in keeping with the company's push to liven up its image plans to stage an exclusive concert event with a mystery performing artist for the BlackBerry Pearl 3G launch. To win tickets to the what Telstra is calling the 'BlackBerry BlockParty' visit: www.BlackBerryBlockParty.com.au.