The Council of Small Business of Australia (COSBOA) has today applauded Senator Stephen Conroy for his handling of the review of the Do Not Call Register.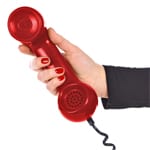 "It is a rare occasion that a Government Minister has the strength and courage to reconsider his own legislative amendments in response to concerns from the small business community," said CEO Jaye Radisich.
"In his thorough examination of the future of the Do Not Call Register Senator Conroy has accepted that including business to business calls in the Register may not be beneficial for small businesses.
"Given that 95% of Australian businesses are small, it makes sense that they should be allowed to freely interact with each other, and with big business, to promote their goods and services without being hindered by excessive regulation.
"COSBOA is pleased that the Government will undertake further research in this area to better understand small business' marketing and communications needs in support of evidence-based regulation in the future. This work will complement industry-based research, such as the TrueLocal/ COSBOA survey on the Do Not Call Register conducted earlier this year."