Qantas is taking the fight to Virgin Blue's plans to dominate the domestic air travel market amongst business travellers by adding 820,000 seats to its Jetstar discount airline.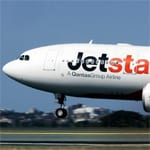 Virgin Blue last week announced a net profit for the year to to June 30, 2010 of $21.3 million, with Virgin Blue's domestic short haul business posting an underlying pre-tax profit of $128 million. Qantas is desperate to carve additional profit out of Virgin Blue's short haul domestic routes, which are profitable primarily due to the large number of business airfares booked on short notice at higher margins than personal airfares.
Qantas told the Herald Sun yesterday that Victoria and South Australia would see an additional 21 Jetstar flights per week out of Adelaide and Melbourne. Over half of the additional 820,000 seats Qantas is allocating, some 440,000 Jetstar airfares would be on flights out of Melbourne.
Jetstar announced this aggressive plan after Virgin Blue signed an agreement with Etihad last week to connect Virgin Blue's international arm V Australia to Etihad's Abu Dhabi hub with flights between Sydney and Brisbane and the Middle East from November.
Jetstar chief executive Bruce Buchanan risks cannibalising Qantas' profitable domestic business margins with the increase in Jetstar flight frequency, however Mr Buchannan believes the additional Jetstar flights are great news for customers, particularly due to the greater frequency which should appeal to business customers.
Jetstar will add 45 weekly services flying out of Sydney and Melbourne, with Melbourne's Tullamarine airport to feature heavily in Jetstar's plans to conquer the business market, with the airline flying 310 return flights per week out of the international airport hub, with only 40 of the airlines 350 Melbourne flights weekly coming out of Avalon, which is further from the Melbourne CBD according to the Herald Sun.