Deputy Prime Minister Julia Gillard was has been touring Southern Queensland to sell last week's budget at the request of the Federal Labor candidate for Hinkler Belinda McNeven.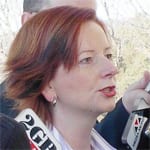 Last night Ms Gillard supported Belinda McNeven at a health forum at Bundaberg TAFE, which was originally hoped to be debate with Member for Liberal Party Member for Hinkler Paul Neville.
"I'm here at Belinda McNeven's invitation and I thank her very much for the opportunity," Ms Gillard told assembled media at a press conference before the forum." Ms Gillard said last night.
"There are two important issues affecting the community and that is the ability to get a doctor when you need one and the opportunity for training and employment.
"The government has announced the biggest set of changes since Medicare and it will mean more doctors and more beds."
Yesterday, Ms Gillard opened a $7.8 million learning facility at Mackay's CQUniversity campus, which contains a library, meeting rooms and medical students learning areas.
Ms Gillard will be at a Jobs Expo in Bundaberg today, where she will promote the Government's commitment in last week's budget to fund an additional 22,000 apprenticeship places, with the Federal Government to shortly be consulting businesses on the benefits taking on an apprentice.
"I'm sure that employers in this region, in this community, in Bundaberg, will want to step up to the task of giving a young person a start in life," Ms Gillard said.
"There are the places there, many willing employers who can step forward and take advantage of the program. We're obviously focused on those areas where skills are short."
"So one of the things that we'll be doing at the job expo is explaining the benefits now available for employers. The incentive more than triples if they give a young person a go."