Qantas subsidiary Jetstar will cease flights into Rockhampton from May 9th after disputes arose over a long term deal with the airport.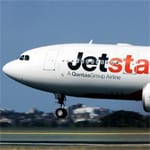 Jetstar boss Bruce Buchanan was unhappy with what he termed "greedy" airports, with up to 25% of the cost of short haul flights being fees paid to airports.
"There are a whole bunch of airports that we've had issues with over time because you do get very different views on what they think is an acceptable level of return"
"If you don't get that right, it's very hard to drive growth through low fares," he said.
Jetstar is expected to increase the number of flights to Mackay as a result of the schedule reshuffle. Going from 21 to 28 flights per week to the destination from Brisbane.
Qantas subsidiary QantasLink is set to increase the frequency of its services to both Mackay and Rockhampton starting April 6. With an additional 8 services per week to Mackay from Brisbane and an additional 6 to Rockhampton.
These changes will result in an additional 2,000 seats each week across both airports.
"Increased frequency is always valued by our customers, and our flight times will particularly benefit business travellers wishing to connect to Qantas's broader domestic and international networks in Brisbane and beyond." Said QantasLink executive manager, Narendra Kumar.
Any passengers booked to fly with Jetstar after May 10 will be given the option to transfer to an equivalent QantasLink service.