As the World Trade Organization (WTO) forecasts a global trade growth of 9.5 % in 2010 and company-internal year-to-date volume statistics suggest a positive development on many trade lanes, DHL Express announces an expansion of its import services worldwide.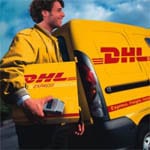 In addition to offering the most extensive next business day import service globally, the world's leading international express delivery company is now backing its pre-noon and pre-nine import deliveries by on-time delivery guarantees in 135 and 90 countries respectively. DHL plans to inform consumers on its leading import services through a global campaign this week.
The newly enhanced import services portfolio reflects DHL's strategy to concentrate on the cross-border express business. DHL has considerably strengthened its international express delivery network in the past year, building further its industry leading expertise and capabilities. The successful optimization of its global network and enhancement of its world-wide import billing capabilities over the past months paved the way for expanded DHL's Import Express services.
DHL's import services are useful for all express customers who receive shipments from production facilities or suppliers in different parts of the world. Those importing time sensitive goods, together with the highest control over transport costs, find the services particularly useful. Likewise, companies in the technology sector, value the in-house customs expertise of DHL and the absence of needing a warehouse at destination.
DHL IMPORT EXPRESS 12:00 assures a delivery by noon for vital deliveries to major cities, towns and business centers, with transportation charges met by the receiver at destination. The enhanced service level is now available to customers in 135 countries and offers a full money-back guarantee in the unlikely event of a late shipment delivery. Customers who need an even earlier delivery to their premises can now take advantage of DHL IMPORT EXPRESS 9:00, which is offered to major cities across 90 countries worldwide with the same full money-back guarantee. Customers can use either local customer service hotlines or DHL's online shipping tools to choose their preferred time of inbound delivery.