Woolworths and Coles are under threat by US retailing giant Costco, who has plans to open another six stores in the next three years.
Costco currently operates one massive store in the Melbourne docklands precinct and has another store in the planning process for Sydney in the Auburn area.
Costco differs from traditional retailers in that they operate on a membership model, with shoppers required to become members based on their needs (personal or business) in order to shop at the stores. Currently Costco have over 75,000 members for their flagship Melbourne site, and employ over 225 people.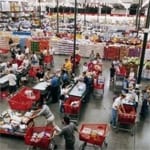 Costco also differ in the size of their stores, catering for almost every need under one roof, with their large scale in both purchasing and retailing/wholesaling leading to lower prices for customers.
In a conference call to analysts Costco chief financial officer Richard Galanti let the company's expansion plans for Australia be known."We are ramping up some of our international [operations] a little bit; our success in Asia is an example, and Australia."
"It means instead of doing three in three years total, we will do hopefully five or six [in Australia]." With it expected that stores will be announced in both Canberra and Brisbane in the near future.
The managing director of Costco Australia, Patrick Noone, was on the hunt for new locations depending on the availability of land and on local planning regulations.
"We certainly have the capacity to do that [open two stores a year over three years]… I hope we can do that," he said.
"In Australia we have had a terrific opening in Melbourne, great support from the population."