Australia's construction sector is up again in April according to the Australian Industry Group Housing Industry Association Performance of Construction Index.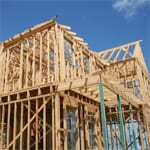 Construction activity was seen as bolstered by an increase in demand for apartment's as demand for more affordable housing in inner city areas picked up.
The Australian Industry Group-Housing Industry Association performance of construction index was 4.8 points higher in April to a seasonally adjusted 55.8 points, with numbers above 50 indicating expansion of activity in the construction sector.
The apartment copnstruction sub-index was 10.3 points higher to 58.8 in April, a significant rebound from negative grown seen in March.
Australian Industry Group director of public policy Peter Burn said the expansion was indicative of an improving economy, though was positively influenced by temporary factors such as the Federal Government's school stimulus Building the Education Revolution program.
"The house building sub-sector has now been in positive territory for nine consecutive months," Dr Burn said in a statement.
"It will need to continue to grow, together with strong demand and to catch up on the shortage of supply that has helped push up prices.
"This will be a challenge in the face of recent interest rate rises."
In other areas of the AiG/HIA survey, the new orders sub-index increased to 53.1, with the employment sub index posting its strongest rate of growth since January 2006, gaining 5.8 points to finish positive at 56.8 in April.
The AiG/HIA Performance of Construction Index, compiles data from 120 interviews with companies Companies answer questions related to production, employment, prices supplier deliveries, inventories and new orders. The results of the index are an indicator for the conditions likely in the short to medium term in the construction sector.