Research In Motion (RIM) today introduced the BlackBerry Storm2 smartphone for customers in Australia, with users expected to be able to purchase the phone from mid-March.
The second generation of the Blackberry Storm makes several improvements to the original, with Blackberry OS5 and the addition of what is being called SurePress technology, a tactile feedback system for the BlackBerry Storm2's touch screen keyboard.
"The BlackBerry Storm2 smartphone, with its next generation SurePress technology and large, brilliant display, gives users a unique and powerful touch-screen experience," said Adele Beachley, Managing Director for Australia and New Zealand, Research In Motion. "In addition to enjoying the many advanced communications and multimedia capabilities of the new BlackBerry Storm2 smartphone, users can also choose from a broad range of free mobile applications following the recent introduction of BlackBerry App World in Australia."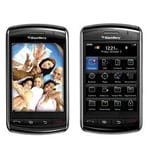 The BlackBerry Storm2 smartphone is expected to be available mid-March in Australia. For more information about the BlackBerry Storm2 smartphone, visit http://www.blackberry.com/storm.
Vodafone is currently advertising the Blackberry Storm2 as being available on their $69 cap plans. On a related topic, Dynamicbusiness.com is giving away 5 x double passes to the 2010 Formula 1 Qantas Australian Grand Prix courtesy of Vodafone over.. here.