Queensland Premier Anna Bligh was on site to mark the quarter point milestone for the $4.8 billion Airport link project yesterday.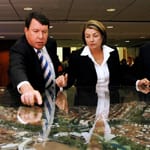 To mark the milestone, Premier Anna Bligh was joined by Deputy Premier Paul Lucas and Infrastructure Minister Stirling Hinchliffe to inspect progress at the drilling site.
The three inspected the Bowen Hills section of the tunnel – unveiled for the first time since digging began nearly a year ago.
"With four kilometres of tunnel now excavated we've passed the one quarter mark in the 15 kilometres required for the project," Premier Bligh said.
"When the six lanes of Airport Link open in around two years, motorists will be able to avoid Lutwyche Road altogether, driving straight onto Gympie and Stafford roads, or onto Sandgate Road and the East West Arterial instead."
"People traveling to the North Coast, the Airport or just wanting to get on to the Gateway Arterial will be able to use the Airport Link tunnels to avoid some of the most congested arterial roads in our city," Premier Bligh said.
"This project is currently employing more than 2,700 people and this number is expected to grow to well over 3000 in coming months." Deputy Premier Paul Lucas said.
"Work at the Bowen Hills site is progressing well with four road headers currently working in the tunnels."
"A massive 274-metre cavern is also under construction which will form a Y junction for the Lutwyche Road off-ramp."
"When complete it will be the largest cavern built in Brisbane," Mr Lucas said.
Infrastructure Minister Stirling Hinchliffe said that at the other end of the Airport Link tunnel, two Tunnel Boring Machines would begin the task of meeting the current tunnel in the middle in a few months time.
"The first machine is being assembled at Toombul and the second is expected to be unloaded later this week from a ship which has transported it from Germany," Mr Hinchliffe said.
"With Australia's largest cutterhead, the 3600 tonne Tunnel Boring Machine will be delivered to Australia in three shipping containers and will be transferred to the Project's Kalinga Park construction site in Toombul."
"While the decision to build a tunnel rather than a surface highway will significantly reduce impacts in the future, I thank the people of the area for their patience during this massive construction period," Mr Hinchliffe said.
The project, which is being designed and constructed by Thiess John Holland, along with the Airport Link toll road and the Airport Roundabout Upgrade, is part of a massive $4.8 billion infrastructure investment on Brisbane's Northside.