The ACTU has embarked on a campaign to increase wages, asking for $27 extra of 5 percent more per week, but employers argue that an increase of that size will place jobs at risk.
The ACTU in its submission to Fair Work Australia has argued award-based workers have been left behind by last year's wage freeze as a result of the global financial crisis. With ACTU secretary Jeff Lawrence saying the lowly paid are due a "catch-up" increase in wages after the wage freeze last year.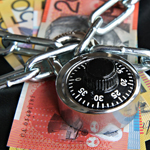 "Fairness suggests it's finally time for a decent rise in minimum wages," he told the National Press Club yesterday.
Australian Industry Group chief executive Heather Ridout was critical of the ACTU's grab for cash with the effects of the global financial crisis still a reality for its members. "The ACTU is getting ahead of itself with its minimum wage claim and in doing so putting at risk the jobs of the very people it is trying to help," she said.
Australian Chamber of Commerce and Industry (ACCI), is expected to seek a $10-$15 rise in its submission to Fair Work Australia reports The Daily Telegraph.
ACCI workplace policy director David Gregory has dismissed the ACTU claim as "neither reasonable nor balanced", citing continued economic hardship by small and medium businesses.