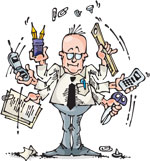 Do you need to be a Donald Trump to run your own business? No, but some of those well-known traits help! Here's seven fool proof tips to help you run your own business.

To start, own and run your own business is not for everyone. Many people have wonderful but are not blessed with the skills, business nous and sheer bloody-mindedness necessary to keep going when things are tough. In short, they don't have the kind of 'entrepreneurial gas' that fuels the fire and separates those who will make it from those who probably won't.
The economy hasn't helped. We read that things are improving and the green shoots of recovery are sprouting up around us. Yet interest rates are on the rise, the Aussie dollar is on the rise (affecting anyone who exports) and the number of small businesses being sold is also on the rise. A disheartening dose of reality, but one which can be overcome if you are prepared, passionate and thick-skinned enough to really want to own and run your own business.
And it seems like there are a lot of us and the number is growing. The GFC has encouraged, by default, many individuals to rethink their corporate career and branch out on their own. SMEs currently generate a staggering 30 percent of our country's wealth and employ half of all private sector employees. There are over two million small businesses in Australia.
So, what does it take to be a successful entrepreneur? Here are seven tips gleaned over 15 years of trial and error.
1. Know what's important to you and what success looks like
Taking the plunge to run your own company often means you will need to be available 24/7, especially in the early days as you ramp up the business. They are busy, heady, exhausting days when you truly believe the sky is the limit. Your family and friends are likely to cut you some slack, understanding that it is the beginning, however an absent, distracted family member can soon wear thin.
My advice is from your earliest days focus on (or stop to re-focus on) what success look like; what is not negotiable and what is truly important for you. Maybe it's having weekends off to spend with your family, maybe it's being at the school to collect your children or freedom to pursue a hobby without asking permission. Maybe it's something completely different, like 'giving back', travel, committing to sustainable and energy efficient policies, employing 'local mums' or promising to be ethical and honest in all your business dealings. For many, it's a combination of the above, but it really helps to articulate what's important and plan to make that work for you. One of my favourite pieces of advice is that you can't hit the bullseye if you can't see it.
2. Prioritise your business plan
Do you have a business plan? If you don't, now is a really good time to write one. Look at what people are buying; determine what problem you are solving. Do you have an elevator pitch? Can you articulate what you are doing/making/selling in 30 seconds? Who are your best customers? How do you reward them?
If you do have a plan, get it out and brush it off. Keep it somewhere you can see it, and refer to it often.  I often carry mine round in my briefcase. Try not to drift. Again, it's very hard to hit the bullseye if you don't have a target. Make the goals SMART; Specific, Measurable, Achievable, Results-driven and Tangible so you will know when you've hit success.
Having said that, be flexible. Small business is about being open to be nimble and agile and able to respond to changing market conditions and your customer's needs. If you need to redefine your plan, do it now. If you haven't already, get rid of excess, innovate, review your processes and cut all unnecessary costs.
3. Hire carefully and let your staff know they are important
This is possibly one of the hardest and most overwhelming tasks faced by new business owners. There is no magic formula for getting it right, but time brings experience in getting the right people on the bus, on your journey. Have a look at your business's culture. Are you young and funky? Professional and conservative? Full time or part time? There is value in looking outside the square; students and graduates, part-timers, part-time senior mums, part-time mature people with lots of experience, men, women, Gen X, Y and Z and anyone else in between!
Consider training budgets and each individual's motivations. Not everyone is motivated by money. Consider a three-to-six month probation period, setting appropriate KPIs and have tight, legally checked employment contracts. Be clear about your expectations and communicate frequently with your team so they know your priorities and pain points. Be prepared to counsel frequently, reward good work and have some fun times.
4. Sieve the business
Literally pour your business through an imaginary sieve as if you were sifting flour. Anything that stays in the sieve is almost certainly worth keeping. Anything that falls through – you can probably discard. Recession is a great time to clean a business out. Some of the big headings to consider are infrastructure: renting or purchase your premises, short or long-term contracts, rent or buy furniture etc; funding v self funding versus borrowing, business or charity and learning to love your bank manager.
5. Outsource
I am a big believer that we are never good at everything. We all have our own strengths and weaknesses. And coincidently, we are usually good at our strengths and struggle at the skills we don't enjoy. As a business owner you don't have time to struggle. Find experts to do the things that take you time, so you can concentrate on what you are good at. Outsourcing to experts is important because it is often cheaper to get someone else to take care of the tasks you resent or simply don't have time. Know your strengths, but understand you can't know, or do, everything. Find good people you trust to do it for you.
6. Networks, mentors and your IP
Who you know, how you met them and how you keep that information stored is perhaps the foundation of your most important intellectual property: your database. Customers, prospects, suppliers and influencers should all be stored in a workable medium, giving you ready access to the people who are going to keep your business alive and well, in all its iterations. Get out and meet the right people who will influence, grow, buy or assist the growth of your business and increase your spheres of influence. Collect business cards and store the information where you can email, mail or contact it efficiently and easily.
7. Marketing
No matter what your business is, you need a proficient marketing toolkit. Know what you are offering and tell people clearly and regularly. In its broadest sense, your marketing toolkit should contain database and direct marketing activities, industry updates, newsletters, events and response driven advertising. Specifically, your sales pack should include testimonials and case studies, clearly branded. You are your brand, so make sure how you behave reflects your business standards.
Finally, use common sense. Know your strengths, do more with less and don't be afraid to ask for help. Ask the dumb questions. Work your customers, work with your customers and work for your customers. Deliver on your brand promise. Be passionate, believe in yourself and your product and keep the entrepreneurial fire in your belly burning.
–Sharon Williams is CEO of Syndey-based Taurus Marketing (www.taurusmarketing.com.au) and a member of the Dynamic Business Expert Panel. She also blogs regularly on the website.
Seeking to promote your business? Create your free business listing with Dynamic Search business directory – Sister site of Dynamic Business.